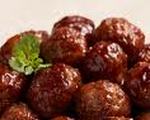 Prep: 15 min
Cook Time: 25 min
Total: 40 min
Serving: 6
Meatball and Pasta Soup makes a great complete meal in a bowl.
Ingredients
Meatballs: 1/2 pound lean ground beef
1/4 cup seasoned dry bread crumbs
1 egg
1/2 teaspoon Italian seasoning
1 garlic clove, pressed
1/4 teaspoon salt
Soup: 1 cup zucchini, choppped
1/2 cup onion, chopped
2 garlic cloves, pressed
2, 14 ounce cans beef broth
1, 14 ounce can diced tomatoes, undrained
1, 11 ounce can pork and beans in tomato sauce, undrained
3/4 cup elbow macaroni
1 teaspoon Italian seasoning
1/2 cup freshly grated Parmesan cheese
Directions
For Meatballs: In a medium bowl, combine ground beef, bread crumbs, egg, Italian seasoning, garlic and salt; mix lightly but thoroughly. Shape mixture into small balls; brown over medium heat 6-8 minutes or until beef is no longer pink. Remove from pan.
For Soup: In pan place onions, garlic and cook 3 minutes or until onion is tender. Add beef broth, tomatoes and pork and beans; bring to a boil.
Add macaroni, meatballs, zucchini and Italian seasoning. Return to a boil; reduce heat to low and simmer 6-8 minutes or until macaroni is tender. Ladle soup into bowls; sprinkle with Parmesan.