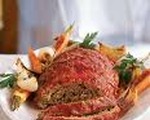 Prep: 15 min
Cook Time: 1 hr 10 min
Total: 1 hr 25 min
Serving: 8
Sour cream and egg whites lighten up Meat Loaf Souffle.
Ingredients
1 1/2 pounds ground beef
1/2 cup dry bread crumbs
1/2 cup milk
1/2 cup onion, chopped
4 eggs
salt and pepper
4 ounces Cheddar cheese, shredded
2 tomatoes, sliced
1 cup sour cream
3/4 cup flour
Directions
Combine first 4 ingredients with 1 egg, 1 1/2 teaspoons salt and 1/8 teaspoon pepper in bowl, mixing well. Press lightly into 9 by 9 inch baking dish.
Bake at 350 degrees F for 25 minutes. Pour off drippings. Top with cheese and tomato slices.
Separate remaining eggs. Combine egg yolks, sour cream, flour, 1/4 teaspoon salt and dash of pepper in bowl, beating until thick and creamy.
Beat egg whites until stiff but not dry. Fold into sour cream mixture, blending well. Spread over tomato slices. Bake at 350 degrees F for 30 to 40 minutes or until golden brown. Let stand 5 minutes before serving.