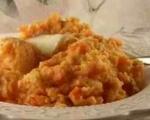 Prep: 15 min
Cook Time: 30 min
Total: 45 min
Serving: 6
Perfect for fall, rutabagas are versatile and taste delicious mashed. Try this mashed rutabaga recipe tonight!
Ingredients
3-4 large rutabagas, peeled and halved
Water to cover
1/2 teaspoon fresh lemon juice
6 tablespoons butter
1/2 teaspoon salt
1/2 teaspoon freshly ground black pepper
Directions
Slice rutabagas into 1/2 inch thick slices. Boil until soft in a large pot for about 20-30 minutes depending on thickness of slices. Drain well in a colander.
Return rutabaga to pot and mash with butter and lemon to the consistency of coarsely mashed potatoes. Add salt and pepper to taste. Serve immediately and enjoy!