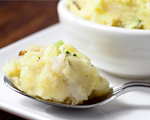 Prep: 30 min
Cook Time: 20 min
Total: 50 min
Serving: Makes 5 cups
The ricotta cheese in this dish adds both cheesy flavor and tang to these mashed potatoes.
Ingredients
2 pounds potatoes
2 teaspoons salt
1-1/2 cups fresh ricotta
1/2 cups whole milk
3 tablespoons butter
1/2 teaspoon freshly ground black pepper
Directions
Peel the potatoes and cut into approximately 1-inch pieces.
Put potatoes in a large pot, add a sprinkle of salt and fill with water until potatoes are covered. Bring the contents of the pot to a boil and cook for about 20 minutes or until potatoes are tender.
Drain the liquid from the potatoes and then mash with a fork or potato masher.
Blend in the ricotta, milk, butter, remaining salt, and pepper. Serve immediately.