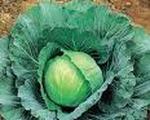 Prep: 15 min
Cook Time: 1 hr
Total: 1 hr 15 min
Serving: 4
Cabbage and potatoes come together beautifully in Mashed Potatoes with Cabbage.
Ingredients
6 medium potatoes
water
1 medium head green cabbage
5 tablespoons butter
1 small onion, diced
3/4 cup milk
1 teaspoon salt
1/8 teaspoon pepper
Directions
In 4 quart saucepan over high heat, heat potatoes and enough water to cover to boiling. Reduce heat to medium-low; cover and cook 25 to 30 minutes until potatoes are fork-tender.
Meanwhile, discard tough outer leaves from cabbage; carefully remove 4 large leaves and reserve. Chop remaining cabbage. In 10 inch skillet over medium heat, in hot butter, cook chopped cabbage and onion until very tender, about 25 minutes.
When potatoes are done, drain and peel potatoes. In large bowl with mixer at low speed, beat potatoes, milk, salt and pepper until light and fluffy. With rubber spatula, fold in cabbage mixture.
To serve, line platter or bowl with reserved cabbage leaves; spoon potato mixture on cabbage leaves.