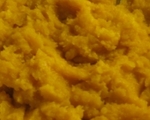 Prep: 15 min
Cook Time: 30 min
Total: 45 min
Serving: 6
Butternut squash is healthy and versatile. Try this mashed butternut squash recipe for a twist on your average side dish recipe.
Ingredients
2 medium butternut squash (about 4 - 5 lbs)
3 tablespoons unsalted butter
4 tablespoons packed brown sugar
1/2 teaspoon ground cinnamon
1 teaspoon kosher salt
1/2 teaspoon fresh ground black pepper
1/4 cup milk
Directions
Preheat oven to 400 F. Cut off ends of squash and discard. Peel, cut in half lengthwise and remove seeds. Cut squash into 3/4 inch cubes and place evenly on a baking sheet.
In a small bowl, stir together melted butter, brown sugar, cinnamon, salt, pepper and milk. Toss all ingredients together and spread over the squash.
Roast for 30 minutes, turning half way through, until the squash is very tender. Try not to let it brown. Transfer squash and the pan drippings to a mixing bowl or casserole dish and mash or mix w/ hand mixer until smooth. Season to taste if necessary and serve immediately.