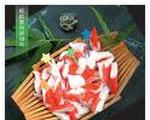 Prep: 25 min
Cook Time: 15 min
Total: 40 min
Serving: 4
Maryland Crab Imperial can be baked in either a casserole dish or individual scallop shells.
Ingredients
1 pound crabmeat
1 tablespoon butter
1 tablespoon flour
1/2 cup milk
1 teaspoon onion, minced
1 1/2 teaspoons Worcestershire sauce
2 slices white bread, trim crusts and cube
1/2 cup mayonaise
1 tablespoon fresh lemon juice
salt and pepper to taste
2 tablespoons butter
paprika
Directions
In a medium pan, melt butter and mix in flour. Slowly add the milk, stirring constantly. Cook over medium heat until mixture comes to a boil and thickens. Add onions, Worcestershire sauce and bread cubes. Cool.
Fold in mayonaise, lemon juice, salt and pepper.
In another pan, heat butter, add crabmeat and toss lightly. Combine with sauce mixture. Put into baking shells or a greased 1 quart casserole. Sprinkle with paprika. Bake at 450 degrees F for 10-15 minutes.