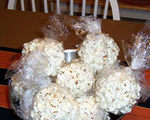 Prep: 10 min
Cook Time: 20 min
Total: 30 min
Serving: 8 balls
Looking for a Halloween treat? Look no further--try these popcorn balls for a treat that adults and kids alike will love!
Ingredients
1 tablespoon vegetable oil
1/2 cup unpopped popcorn
6 tablespoons butter
5 cups miniature marshmallows
1/2 teaspoon ground cinnamon
Directions
Grease a 9-by-13-inch baking dish and set aside.
In a 4 quart saucepan, add vegetable oil and heat over high heat. When oil is hot, add popcorn kernels and keep pan moving constantly. When corn stops popping, remove from heat and put popcorn in prepared pan.
Melt butter in a medium saucepan over low heat. Stir in marshmallows and cinnamon and cook until melted, stirring constantly. Pour marshmallow mixture over popcorn and mix to coat evenly.
Let mixture cool slightly. Smear butter on your hands and mix popcorn with your hands so that it is evenly coated. Form popcorn into 8 popcorn balls.