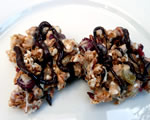 Prep: 1 hr 10 min
Cook Time: 15 min
Total: 1 hr 25 min
Serving: 8
Kids will love Marshmallow Noodle Bars and you'll love them because they require no baking.
Ingredients
1, 6 ounce package butterscotch morsels
1/4 cup sugar
3 tablespoon light corn syrup
1 1/2 cups vanilla wafers, crushed
2, 3 ounce cans chow mein noodles, crushed
1/2 cup orange juice
1 cup miniature marshmallows, halved
1 cup walnuts, choppped
Directions
Melt butterscotch morsels over hot water in top of double boiler. Stir in sugar and corn syrup. Add vanilla wafers, one can chow mein noodles, crushed and orange juice; mix well.
Stir in marshmallow and 1/2 cup walnuts. Chill mixture thoroughly. Shape into 3/4 inch balls. Roll balls in mixture of remaining crushed chow mein noodles and walnuts to coat. Store in refrigerator.