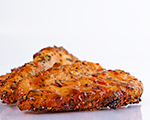 Prep: 10 min
Cook Time: 7 min
Total: 17 min
Serving: 2 servings
This lovely chicken dish for two offers both sweet and savory flavors. Serve with a side of green beans and spicy rice pilaf.
Ingredients
1/2 cup reduced-sodium chicken broth
1 tablespoon red-wine vinegar
1 tablespoon orange marmalade
1/2 teaspoon Dijon mustard
1/2 teaspoon cornstarch
8 ounces chicken tenders
1/4 teaspoon sea salt
1/8 teaspoon freshly ground pepper
1 tablespoon extra-virgin olive oil, divided
1 large shallot, minced
1/2 teaspoon freshly grated orange zest
Directions
In a medium bowl, mix together the broth, vinegar, marmalade, mustard and cornstarch until well combined.
Add the oil to a large sauté pan and heat over medium-high heat.
Season the chicken with salt and pepper on both sides, and then place in the pan and cook for 2 minutes on each side. Transfer to a plate and keep warm.
Add the shallots to the pan and sauté for 30 seconds, and then slowly pour in the broth mixture, whisking to combine.
Bring the mixture to a simmer, and then reduce the heat to medium-low and cook for about 1 minute.
Return the chicken to the pan and cook for 1 additional minute.
Remove the pan from the heat and then sprinkle in the orange zest. Stir and serve immediately.