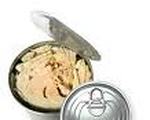 Prep: 12 hr 15 min
Cook Time: 20 min
Total: 12 hr 35 min
Serving: 6
The addition of tuna and anchovies makes Mariner's Pizza flavorful and unique.
Ingredients
1 pound loaf frozen plain bread dough, thawed overnight in refrigerator
1, 15 ounce jar extra thick Italian-style spaghetti sauce
1 can pitted black olives
2, 2 1/2 ounce jars whole mushrooms, drained
2, 4 ounce jars marinated artichoke hearts, drained
1, 7 ounce can tuna, drained
8 ounces Mozzarella cheese, finely diced
2, 2 ounce cans rolled anchovies
Directions
Divide dough in half; stretch to fit two lightly oiled 12 inch pizza pans, pressing against bottoms and sides of pans and keeping dough slightly thicker on edges. Allow crusts to rest 15 minutes.
Spread half of spaghetti sauce on each pizza. Break up tuna; divide between pizzas, spreading evenly. Alternate olives and mushrooms around edge; arrange artichokes on each pizza; sprinkle with cheese.
Bake at 450 degrees F for 20 minutes or until crusts are golden brown. Garnish with anchovies.