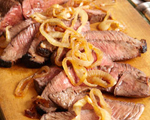 Prep: 10 min
Cook Time: 47 min
Total: 57 min
Serving: 4 Servings
The secret ingredient in this recipe is actually a can of coke! Along with the lime, it helps create a sweet and citrusy marinade for the steak.
Ingredients
1 can of Coke
1/2 lime
1 red onion, thinly sliced in strips
2 tablespoons balsamic
1 tablespoon butter
1 skirt steak
2 teaspoon sugar
Directions
Empty the coke and the lime juice into a Ziploc bag and add the steak. Place the meat into the refrigerator and marinate for at least 6 hours.
Prepare the grill on medium-high heat.
In the meantime, heat the butter over low heat in medium-sized sauté pan and add the onions. After 4 minutes, add the sugar and sauté for 35 minutes, stirring occasionally
Pour in the balsamic vinegar, stir and set aside covered to keep warm.
Grill the steak for 3-1/2 minutes per side, flipping once, for a medium-rare doneness. Cut the meat into strips and add to the pan with the onions. Toss all of the ingredients together and serve immediately.