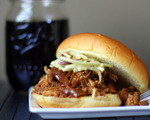 Prep: 2 hr 20 min
Cook Time: 20 min
Total: 2 hr 40 min
Serving: 6 Servings
Thin slices of marinated pork are piled onto soft buns and then topped with a sweet and sticky barbeque sauce and finely shredded cabbage.
Ingredients
1-1/2 pounds pork tenderloin
2 tablespoons olive oil
6 soft rolls
1-1/2 cups shredded cabbage
2 teaspoons garlic powder
2 teaspoons paprika
1 tablespoon black pepper
1 tablespoon rosemary
1 tablespoon thyme
1 tablespoon Chipotle rub
1/4 cup BBQ sauce
1/4 cup steak sauce
1/4 cup hoisin sauce
2 tablespoons ketchup
2 tablespoons cider vinegar
Directions
Place all of the spices into a bowl and mix well to combine. Rub the pork tenderloin with the spice mixture and then place in the refrigerator for at least 2 hours to marinate.
Prepare the gill on medium heat.
Put the bbq sauce, steak sauce, hoisin sauce, ketchup and the vinegar into a bowl and stir well to blend. Set aside.
Rub the spiced pork tenderloin with oil and then place on the grill for 20 minutes, turning once on all sides. Transfer the meat to a cutting board and let rest for 5 minutes before cutting into thin slices.
Spit the buns in half and then add the sliced pork. Spoon some of the bbq sauce mixture over the meat and then top with the shredded cabbage. Serve immediately.