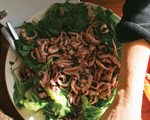 Prep: 4 hr 15 min
Cook Time: 35 min
Total: 4 hr 50 min
Serving: 4 Servings
Instead of cleaning and cutting large pieces of fresh octopus yourself ask your local fishmonger to provide you with baby octopus; it's smaller and often sold already cleaned.
Ingredients
1/2 cup white wine vinegar
1/2 cup fresh lemon juice
2 tablespoons sea salt, plus more to taste
4 dried bay leaves
1 pound cleaned fresh or frozen and thawed baby octopus, each cut into 5 pieces
1/2 cup extra-virgin olive oil, plus more to taste
1 teaspoon dried Greek oregano
1 clove garlic, minced
Freshly ground black pepper, to taste
Mixed salad greens, for serving
Directions
Place the vinegar, 3 tablespoons of the lemon juice, 2 tablespoons of salt, the bay leaves and 6 cups of water into a saucepan over high heat and bring to a boil.
Once boiling, reduce the heat to medium-low and simmer the mixture for 30 minutes, stirring frequently.
Drain the octopus and place into a bowl with the remaining lemon juice, the olive oil, oregano and minced garlic. Toss to combine and then cover and place into the refrigerator for at least 4 hours to marinate.
Prior to serving, arrange the greens on a platter, add the marinated octopus and then sprinkle with a few pinches of salt and pepper. Serve immediately.