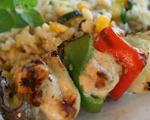 Prep: 3 hr 10 min
Cook Time: 15 min
Total: 3 hr 25 min
Serving: 4 Servings
Succulent pieces of marinated chicken are threaded onto skewers along with olive oil and garlic-coated chunks of bell pepper and onion.
Ingredients
1/2 cup olive oil, divided
1/4 cup fresh lemon juice
4 large cloves garlic, minced, divided
2 tablespoons minced onion
1 teaspoon hot pepper sauce
3 lemon slices
3 boneless, skinless chicken breasts (about 1-1/4 pounds), cut into chunks
3 bell peppers, colors of choice, cut into large chunks
1 or 2 purple or yellow onions, peeled, cut into large chunks
Cloves of fresh garlic, peeled
Chubby green onions, white ends only, cleaned
Directions
Place 1/4 cup olive oil, lemon juice, 2 minced garlic cloves, onion and hot pepper sauce into a bowl, and mix well to combine. Transfer the marinade to a large Ziploc bag and then add the chicken and the lemon slices. Seal the bag and place in the refrigerator for at least 3 hours or up to 8 hours maximum.
Prepare the grill on medium-high heat.
Place the vegetables into a bowl and add the reaming olive oil and minced garlic. Toss well to combine.
Remove the chicken from the bag and thread onto metal skewers, alternating between pieces of the vegetables. Grill the kabobs for 15 minutes, turning every 5 minutes to ensure even cooking. Serve immediately.