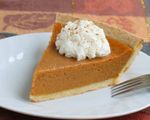 Prep: 10 min
Cook Time: 1 hr
Total: 1 hr 10 min
Serving: 8
One of the most popular ways to eat pumpkin is in pie. This hardy winter squash is packed with cancer fighting beta-carotene.
Ingredients
Pumpkin filling:
1 (15 ounce) can pumpkin or 2 cups pumpkin puree
1 (12 ounce) can evaporated milk
2 eggs, lightly beaten
1/4 cup maple syrup
2 teaspoons vanilla extract
1 tablespoon whole wheat pastry flour
1/4 teaspoon salt
1 teaspoon ground cinnamon
1/2 teaspoon ground ginger
1/4 teaspoon ground cloves
1/4 teaspoon ground nutmeg
Pinch black pepper (optional)
1 (9 inch) unbaked pie shell
Directions
Combine the pumpkin filling ingredients in a large bowl, mix well.
Preheat your oven to 450 degrees F.
Keep pie shell in refrigerator while preparing filling.
Pour filling into pie shell.
Bake for 20 minutes at 450 degrees then lower heat to 350 degrees F and bake for an additional 40 minutes or until a knife inserted in the center comes out clean.
Cover the crust with strips of aluminum foil or a crust guard if it begins to brown too quickly.
Cool on a wire rack and serve warm or at room temperature.