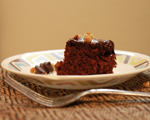 Prep: 20 min
Cook Time: 10 min
Total: 30 min
Serving: 12 People
This is a fun variation of the much-loved chocolate brownie.
Ingredients
1/2 cup butter, melted
1/2 cup light brown sugar
6 tablespoons maple syrup
2 eggs
1 cup flour
3/4 cup chopped pecans
2/3 cup chocolate chips
1/4 cup butter
Pecan nut halves, to decorate
Directions
Preheat oven to 350 degrees. Line a square baking dish with waxed paper.
Cream 1/2 cup butter, sugar, 4 tablespoons of syrup, eggs and flour.
Stir in nuts.
Pour batter into prepared baking dish. Bake at 350 degrees for 10 minutes or until firm. Allow to cool.
In a saucepan, melt chocolate chips, 1/4 cup butter and remaining syrup over low heat. Allow mixture to cool slightly before spreading over cake.
Press in pecan halves, then cut into squares.