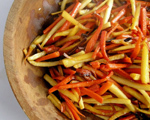 Prep: 15 min
Cook Time: 8 min
Total: 23 min
Serving: 6 Servings
Some of the most important vegetables to buy organic are root vegetables as they grow underground and absorb everything that is added to the soil, more so than aboveground veggies.
Ingredients
3 Large Organic Carrots, Peeled and Julienned
3 Large Organic Parsnips, Peeled and Julienned
2 Tablespoons Clarified Butter
2 Tablespoons Maple Syrup
Sea Salt
Directions
Place a large sauté pan over medium heat and add the butter.
Once the butter is hot, add the julienned carrots and parsnips and sauté, stirring continuously, for 6 minutes.
Add a few pinches of salt and then pour in the syrup and gently stir the mixture for about 2 minutes until the vegetables are covered with the glaze. Serve immediately.