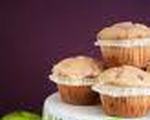 Prep: –
Cook Time: 17 min
Total: 17 min
Serving: Makes 18 muffins
These delicious muffins are bursting with the flavors of autumn: tart apples blend harmoniously with spiced muffins and a delectable maple glaze to create one delicious breakfast treat. Toss in a handful of pecans for added crunch and texture.
Adapted from King Arthur Flour
Ingredients
For the batter:
1/4 cup butter
1/4 cup vegetable oil
1/2 cup granulated sugar
1/3 cup brown sugar
2 large eggs
1 1/2 teaspoons baking powder
1/4 teaspoon baking soda
2 teaspoons pumpkin pie spice
3/4 teaspoon kosher salt
1 teaspoon vanilla extract
2 2/3 cups all-purpose flour
1 cup milk
1 1/2 cups diced Granny Smith apples
3/4 cup cinnamon chips
For the glaze:
3 tablespoons butter, melted
1 cup confectioners' sugar, sifted
3/4 teaspoon vanilla
1 tablespoons hot water
1 tablespoon pure maple syrup
Directions
Preheat the oven to 425 degrees F. Lightly grease a standard muffin tin, or line with paper muffin cups, and grease the cups with nonstick vegetable oil spray; this will ensure that they peel off the muffins nicely.
In a medium-sized mixing bowl, cream together the butter, vegetable oil, and sugars until smooth; add the eggs, beating to combine; stir in the baking powder, baking soda, pumpkin pie spice, salt, and vanilla.
Stir the flour into the butter mixture alternately with the milk, beginning and ending with the flour and making sure everything is thoroughly combined. Fold in apples and cinnamon chips. Spoon the batter evenly into the prepared pan, filling the cups nearly full.
Bake the muffins for 15 to 17 minutes, or until they're a pale golden brown and a cake tester inserted into the middle of one of the center muffins comes out clean.
In a medium bowl, prepare the glaze by mixing together the melted butter, confectioners' sugar, vanilla, water, and maple syrup; whisk until smooth.
When the muffins have cooled slightly, dip the muffin crown into the glaze and allow the glaze to harden. Serve warm, or cool on a rack and wrap airtight. Muffins will keep at room temperature for about a day.