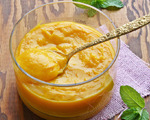 Prep: 10 min
Cook Time: 10 min
Total: 20 min
Serving: Makes about 1-1/4 cups of mango curd
When exotic mangos are in season, this is a great way to take advantage of their wonderful sweet flavor. Top the curd onto cake, ice cream or use as a filler for desserts.
Ingredients
1 large ripe mango, peeled, cut into chunks
6 tablespoons butter
1/3 cup sugar
2 tablespoons fresh lime juice
1 tablespoon fresh lemon juice
Grated zest of 1 lime
3 large eggs, beaten until frothy
Directions
Place the chunks of mango into a blender and process until smooth.
Put the butter into a saucepan over medium heat. Once melted, add the sugar, lemon juice, lime juice and zest, and bring the mixture to a simmer, stirring frequently, until the sugar has dissolved. Stir the pureed mango into the mixture and bring back to a simmer.
Place the beaten egg into a bowl and slowly add some of the hot mango mixture while whisking vigorously to blend. Transfer the egg mixture to the pan and then cook the curd until just simmering.
Pour the curd through a fine mesh sieve and into a bowl. Let the curd cool slightly before using.