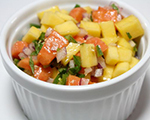 Prep: 1 hr 20 min
Cook Time: –
Total: 1 hr 20 min
Serving: 3 cups
This exotic fruit salsa is the perfect companion to roasted pork, chicken or fish.
Ingredients
1/4 cup finely chopped red bell pepper
2 medium ripe mangoes, peeled and finely chopped
1 medium papaya, peeled and finely chopped
1/4 cup chopped fresh cilantro
1 (11-ounce) can mandarin orange segments, drained
2 medium tomatillos, skins removed, coarsely chopped
2 tablespoons firmly packed brown sugar
Directions
Place the bell pepper, mango and papaya in a medium-sized bowl and toss to combine.
Place the cilantro, orange, tomatillos and brown sugar in a food processor and process until mixture is smooth.
Transfer the cilantro mixture to the bowl with the mango mixture and stir until combined.
Place the bowl, covered, in the refrigerator and chill for at least 1 hour before serving.