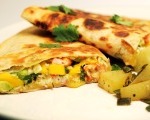 Prep: 10 min
Cook Time: 15 min
Total: 25 min
Serving: Serves 6-8 people
This Martha Stewart recipe, Mango & Goat Cheese Quesadillas, is perfect in the spring when fresh mangoes are in season. Easy and delicious!
Ingredients
4 ounces fresh goat cheese, room temperature
6, 6-inch whole wheat tortillas
1 large ripe mango, peeled, pitted and sliced thin
1/2 small red onion, thinly sliced
1 jalapeno, thinly sliced
1/3 cup fresh cilantro, chopped
Directions
Spread goat cheese on tortillas. In a small bowl, gently mix together the mango, onion, jalapeno & cilantro. Spread the mixture onto one half of each tortilla. Fold the tortilla in half over the filling.
Use a large skillet over medium-high heat and cook each quesadilla until the cheese softens and the tortillas are crisp and browning (about 2 minutes). Lower the heat to medium if the tortillas are browning too much.
Slice into 4 wedges and serve warm.