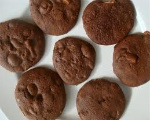 Prep: 15 min
Cook Time: 30 min
Total: 45 min
Serving: 3 dozen
Ingredients
1 cup butter, softened
3/4 cup sugar
3/4 cup packed brown sugar
1 teaspoon baking soda
2 eggs
2 (1 ounce) squares unsweetened chocolate, melted and cooled to room temperature
1 teaspoon vanilla
2 1/4 cups flour
1/2 cup malted milk powder
1 cup chopped malted milk balls
Directions
Preheat the oven to 375 degrees Fahrenheit.
Cream the butter in a large bowl. Mix in the sugars and baking soda. Blend in the eggs, chocolate and vanilla.
Add in the flour and malted milk powder, beating well to mix. Mix in the malted milk balls.
Use a teaspoon to drop onto the cookie sheet, 2 1/2 inches apart. Bake for 10 minutes. Cool for 1 minute before moving to wire racks.