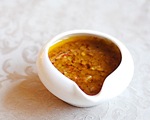 Prep: 20 min
Cook Time: 5 min
Total: 25 min
Serving: 4 Servings
Try coating this spicy and nutty sauce on your chicken satay. It's intense authentic Malaysian flavor is quite memorable.
Ingredients
101/2 cup dry roasted peanuts (unsalted)
1 cup water
1 tablespoon sweet soy sauce
1-1/2 tablespoon palm sugar
1/8 teaspoon salt
1/4 cup oil
1 heaped tamarind pulp (soaked in 1/4 cup water for 15 minutes, squeeze the tamarind pulp for juice and discard the pulp)
6-8 dried red chilies (seeded and soaked in warm water)
3 cloves garlic
3 shallots
2 lemon grass (white parts only)
1 inch ginger (galangal preferred)
1 tablespoon coriander powder
Directions
Place the peanuts into a mini food processor and process until coarsely crushed. Set aside.
Place the chilies, garlic, shallots, lemon grass, ginger and coriander powder into the mini food processor and finely chop.
Put the oil into a skillet over medium-high heat and add the chili mixture. Heat the mixture until aromatic and then add the chopped peanuts, tamarind juice, water, sugar, sweet soy sauce.
Stir the mixture vigorously to combine and simmer for 3 minutes.
Serve at room temperature.