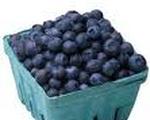 Prep: 15 min
Cook Time: 45 min
Total: 1 hr
Serving: 12
Use fresh or frozen blueberries in Maine Blueberry Cake.
Ingredients
1/2 teaspoon salt
1/2 cup sugar
1/2 cup milk
2 1/2 teaspoons baking powder
2 cups blueberries
1/2 cup butter
1 egg, unbeaten
2 1/2 cups flour
Directions
Mix flour, baking powder and salt in a bowl. In a separate bowl, cream together butter and sugar. Add egg and beat well. Add flour mixture alternatively with milk, beating after each addition until smooth.
Gently fold in blueberries. Pour batter into a greased 9 by 13 inch baking pan. Spread batter evenly in pan. Sprinkle top of cake with regular sugar. Bake for 45 minutes at 350 degrees F.