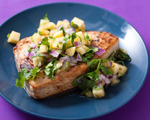 Prep: 15 min
Cook Time: 10 min
Total: 25 min
Serving: 4 Servings
Ingredients
1 cup chopped fresh pineapple (about 6 ounces)
1/4 cup finely chopped red onion
2 tablespoons chopped cilantro sprigs
1 teaspoon minced fresh jalapeno
1 tablespoon lime juice
2 teaspoons olive oil
Sea salt and freshly ground pepper
2 tablespoons vegetable oil
2 teaspoon ground cumin
1-1/2 pounds mahimahi fillet (about 3/4-inch thick)
Directions
Prepare the oven broiler and line a broiler pan with nonstick aluminum foil.
Place the pineapple, onion, cilantro, jalapeno, lime juice and olive oil into a bowl and toss to mix. Sprinkle the salsa with a few pinches of salt and pepper, and toss once more to combine.
Put the mahimahi fillets onto the prepared broiler pan.
Place the vegetable oil and the cumin into a small bowl and add a pinch of salt. Whisk the mixture to combine and then brush onto the fish fillets.
Put the fish in the oven and cook for 10 minutes, then transfer to serving plates and serve immediately topped with the pineapple salsa.