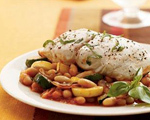 Prep: 10 min
Cook Time: 20 min
Total: 30 min
Serving: 4 Servings
Mahi Mahi is a very mild-tasting fish that pairs well with a variety of different flavors and cooking techniques. Try it in this recipe with yellow squash, zucchini and cannellini beans.
Ingredients
3 tablespoons olive oil
1 cup sliced onion
12 ounces yellow squash and zucchini
2 cloves garlic, sliced
1 can (19-ounces) cannellini beans, rinsed and drained
1 can (8-ounces) tomato sauce
1/2 cup water
1-1/2 teaspoon chopped fresh rosemary
1/4 teaspoon freshly ground pepper
4 mahi-mahi fillets (about 3/4 in. thick)
Directions
Place a large sauté pan over medium heat and add 1-1/2 tablespoons of the oil. When the oil begins to shimmer, add the onion and sauté, stirring frequently, for 3minutes.
Stir in the squash and the garlic and sauté the mixture for 3 additional minutes before adding the beans, tomato sauce, water, rosemary and the pepper. Bring mixture to a boil and then add the fish.
Cover the pan and simmer the mixture for 8 minutes. Serve immediately drizzled with the remaining olive oil.