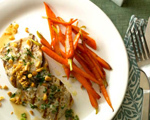 Prep: 10 min
Cook Time: 16 min
Total: 26 min
Serving: 4 Servings
In this recipe, meaty Mahi-mahi fillets are served with thyme and marjoram-seasoned wine sauce. The result is delicious, light and aromatic, and also extremely elegant in presentation.
Ingredients
1/4 cup toasted pine nuts, roughly chopped
1 cup bottled clam juice
1/4 cup dry white wine
1 medium shallot, minced
1 tablespoon finely chopped thyme
1 tablespoon finely chopped marjoram
Salt and freshly ground pepper
4 6-ounce skinless mahimahi fillets
Extra-virgin olive oil, for rubbing
2 tablespoons finely chopped flat-leaf parsley
Directions
Prepare a grill on high heat.
Place the clam juice into a saucepan over high heat and bring to a boil. Cook for 5 minutes to reduce the liquid by half and then add the wine and continue to cook for 5 minutes more.
Stir in the shallot, thyme, marjoram and a few pinches of salt and pepper and then cover the pan and remove from the heat.
Brush the fish fillets on both sides with olive oil and then sprinkle with salt and pepper. Place the fish on the grill and cook for 3 minutes on each side then transfer to serving plates.
Stir the fresh parsley into the wine sauce and then spoon the sauce over the grilled fish. Serve garnished with the toasted pine nuts.