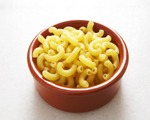 Prep: 10 min
Cook Time: 7 min
Total: 17 min
Serving: 6 People
This easy-to-make salad serves well at potlucks, large family gatherings or backyard barbecues. Try adding peas, diced ham, cherry tomatoes or green olives to give a little variation.
Ingredients
2 cups elbow macaroni
2 tablespoons olive oil
1 teaspoon salt
1 teaspoon ground black pepper
1/2 cup green onions, chopped
1-1/2 cups celery, chopped
1/2 cup pickle relish
1-1/2 cups mayonnaise
2 tablespoons milk
1 tablespoon yellow mustard
Directions
Cook pasta according to package instructions and drain.
In a large bowl, mix together pasta, olive oil, salt and pepper. Refrigerate until mixture becomes cool.
Mix in chopped onion, celery and pickle relish.
In a separate bowl, mix together mayonnaise, milk and mustard. Pour half of the mixture over pasta and blend well.
Keep salad refrigerated until ready to serve. Add remaining dressing prior to serving.