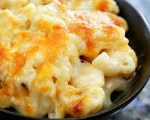 Prep: 30 min
Cook Time: 30 min
Total: 1 hr
Serving: 4 servings
A fluffy macaroni and cheese recipe, served in mugs, which will only make the kids love it more!
Ingredients
1/2 cup elbow macaroni
2 tablespoons chopped green bell pepper
1 tablespoon chopped onion
2 tablespoons margarine
4 teaspoons cornstarch
1 cup skim milk
1 cup shredded cheddar cheese
1 cup frozen corn kernals, thawed
2 eggs, separated
1/8 teaspoon cream of tartar
Directions
Preheat the oven to 350 degrees Fahrenheit.
Cook the macaroni according to the package. Drain and rinse in cold water.
Heat the green pepper and onions in the margarine over medium heat until tender. Mix in the corn starch and milk and cook until bubbly and thick. Continue stirring and cooking for 2 more minutes.
Reduce heat to low and add in the corn and cheese, stirring until the cheese is melted. Remove from heat.
Lightly beat the yolks and stir in the cheese mixture. Fold the macaroni in and allow to cool slightly.
Using dry beaters, stiffly beat the egg whites and cream of tartar. Fold into the macaroni mixture.
Fill 4 mugs to within 3/4 inch of the top with the mixture. Place mugs on a baking sheet and bake for 25-30 minutes, or until the tops are golden.