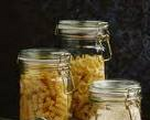 Prep: 15 min
Cook Time: 1 hr
Total: 1 hr 15 min
Serving: 6
Macaroni and Cheese Loaf has all the great flavors of the classic but is sliced and served with tomato sauce for a unique meal.
Ingredients
1 cup macaroni
1/2 pound American cheese, diced
1 1/2 cups milk, scalded
1 cup soft bread crumbs
1/4 cup butter
1 small jar pimento, chopped
1 tablespoons parsley, chopped
1 tablespoons onion, chopped
3 eggs, beaten
salt, pepper, paprika to taste
2 cups homemade tomato sauce, heated to pass
Directions
Cook macaroni 7 minutes in boiling salted water; drain.
Melt cheese in top of double boiler. Gradually add milk, stirring constantly. Add bread crumbs, butter, pimento, parsley and onion. Season. Add eggs. Fold in macaroni.
Pour into a greased loaf pan. Bake at 325 degrees F for 50 minutes or until firm.
Unmold onto a large plate and slice. Pass tomato sauce.