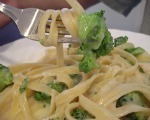 Prep: 10 min
Cook Time: 20 min
Total: 30 min
Serving: Serves 4 people
This creamy, classic Italian pasta dish gets an overhaul to make it fat-free, but keeps all the delicious.
Ingredients
12 ounces of fettuccine
1 broccoli stalk
1-1/2 cups of skim milk
1 tablespoon of unsalted butter
1 tablespoon of flour
3/4 cup of fresh grated parmesan cheese
1/2 teaspoon of kosher salt
Directions
Cook fettuccine according to the package directions, then drain it.
Cut the broccoli into florets, and peel and slice the stalk into pieces. While the past is cooking, bring a pot of salter water to a boil and cook the broccoli pieces for about three minutes, and drain when finished.
Over low heat the skim milk and butter in a large saucepan, and slowly whisk in the flour. Simmer the mixture until it has thickened slightly, continuing to whisk constantly for 1-2 minutes.
Remove the milk and butter mixture from the heat and stir in the parmesan cheese and salt.
Add the fettuccine and broccoli to the mixture and stir over low heat until everything is heated through.
Dish into individual serving bowls and garnish with parmesan cheese.