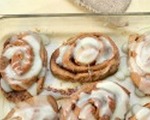 Prep: 2 hr
Cook Time: 22 hr
Total: 24 hr
Serving: 16 Rolls
There is nothing more mouth-watering than a gooey, cinnamon roll slathered in icing, hot right out of the oven. With each bite, you're welcomed with sweet icing, gooey cinnamon filling and soft, moist bread. As tantalizing as these breakfast rolls are, one regular size roll can have up to 1,000 calories and 65 grams of fat! That's a full days worth of fat, in just breakfast! Skip the guilt, regret and discomfort and enjoy one of these equally delicious, low-fat cinnamon rolls. Made with whole wheat flour and just a bit of butter, these taste even better than the original -- with more than half the fat and calories.
Ingredients
For the rolls:
1 cup fat free milk, warmed to 110 degrees F
4 tablespoons melted butter
1/4 cup sugar, plus 1 tablespoon
1 package active dry yeast
1-1/2 cup all-purpose flour
1-1/2 cup whole wheat flour
Dash of salt
1 egg, beaten
1/2 cup packed dark brown sugar
2 tablespoons cinnamon
For the icing:
3 - 4 tablespoons melted butter
1 teaspoon vanilla
2 tablespoons light cream
1 cup powdered sugar
Directions
Mix milk, yeast, butter (2 tablespoons) and 1 tablespoon of sugar in a large mixing bowl and let sit until frothy and bubbly, about 5 minutes. Stir in egg, remaining sugar and 1 cup of flour and mix. Let sit another 10 minutes.
Mix flours together. Add the flours (1/2 a cup at a time) and salt until mixture resembles a sticky dough (you may not use all the flour). Place dough on a lightly floured surface and knead for 4 - 6 minutes, or until the dough is elastic. If still sticky, knead in remaining flour. Place the dough in a large bowl coated with cooking spray and cover it. Let it rise in a warm place (at least 85 degrees F) until doubled in size.
Once dough has risen, punch it down, re-cover and let rise doubled in size again. Punch down again and let it rest 5 minutes.
On a lightly floured surface, roll out dough to a 9 x 18-inch rectangle. Gently brush remaining 2 tablespoons of melted butter all over the dough. In a small bowl, mix together brown sugar and pumpkin pie spice. Sprinkle the melted butter with brown sugar/pumpkin pie spice mixture. Then carefully roll up one end to the other, pressing the sides down with your fingers.
Using a sharp, un-serrated knife, cut the dough vertically into 14 pieces. Place pieces cut side down in two greased baking dishes (I used a 9 x 18-inch dish and an 8 x 8-diameter dish). Cover and let rise another 35 - 40 minutes, or until doubled in size.
Preheat oven to 350 degrees F. Bake rolls for 18 - 22 minutes, or until golden brown. Remove from pans and let chill on a wire cooling rack. While rolls cool, prepare frosting by whisking butter and cream together. Add in vanilla. Then gradually add powdered sugar, about a 1/4 cup at a time, until mixture is a little thick but still runny. Drizzle roll with frosting (about 1-1/2 tablespoons each) while still warm and serve.