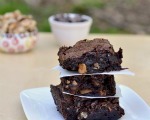 Prep: 15 min
Cook Time: 18 min
Total: 33 min
Serving: 12 People
Low-fat is not a word that is often synonymous with brownies, however, don't let that deter you from digging into these delicious, fudgy brownies. Made with less butter and a hint of applesauce, these decadent treats only look bad for you. Plus, they are so fudgy, you almost need a fork to eat them. Next time your chocolate craving hits, make these instead of your box mix. Not only will they taste better, you won't need to work out immediately after!
Ingredients
3/4 cup all-purpose flour
1/2 white sugar
3/4 cup brown sugar
3/4 cup unsweetened cocoa
1/2 teaspoon baking powder
1 cup semi-sweet chocolate chips
1/3 cup skim milk
5 tablespoons unsweetened butter
1 tablespoon unsweetened applesauce
1 teaspoon vanilla extract
2 eggs, lightly beaten
1/3 cup chopped walnuts
Directions
Preheat oven to 350 degrees F. Grease an 8x8-inch glass baking dish with non-stick cooking spray.
Mix flour, sugar, brown sugar, cocoa and baking powder together in a large mixing bowl.
In a microwave safe bowl, mix 1/2 cup chocolate chips and milk. Microwave on high for one minute. Stir in butter, applesauce, rest of the chocolate chips, vanilla and eggs. Mix this mixture into the flour mixture until a moist batter forms. Gently stir in walnuts.
Pour mixture into the prepared glass pan. Bake for 18 minutes or until a toothpick inserted comes out mostly dry.