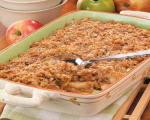 Prep: 15 min
Cook Time: 60 min
Total: 1 hr 15 min
Serving: 8 servings
Low Carb Apple Crisp is rich, sweet and buttery low-carb recipe for any special occasion. You may also substitute any fruit you like for the apples.
Ingredients
5 large Gala apples
1 cup oat flour
1 stick butter (melted)
1 1/2 cups old fashioned oats
2 cups granulated sugar substitute (such as Splenda)
2 tablespoons cinnamon (divided)
Cooking Spray
Directions
Preheat Oven to 350 degrees and spray 13"X9" baking pan with cooking spray
Core and chop apples to bite-sized pieces. It's your option to peel or not.
In a medium bowl combine apples, 1/2 of oat flour, 1 cup of sugar substitute, 1 tablespoon cinnamon, and half the melted butter
Add mixture to sprayed pan.
In the same bowl combine oats and remaining ingredients. Sprinkle mixture on top of apples
Cook at 350 degrees for 45-60 minutes or until fruit is bubbly and topping is browned.
Serve alone or with whipped topping or ice cream.