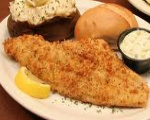 Prep: 15 min
Cook Time: 10 min
Total: 25 min
Serving: 4 servings
Ingredients
Butter-flavored cooking spray
1/4 cup buttermilk or skim milk
1 egg white, slightly beaten
1/3 cup yellow cornmeal
1/3 cup bread crumbs
1 teaspoon Cajun Creole seasoning
1 pound catfish
Directions
Preheat the oven to 500 degrees Fahrenheit. Spray 13x9-inch baking pan with the cooking spray.
Mix together the egg white and buttermilk in a small bowl.
In a separate bowl, mix together the cornmeal, breadcrumbs and seasoning.
Slice the catfish into 2x1 1/2-inch pieces. Dip it in the buttermilk and then roll in the bread crumbs.
Set in the prepared pan. Bake for 10 minutes or until flaky.