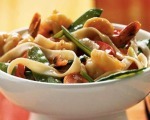 Prep: 15 min
Cook Time: 35 min
Total: 50 min
Serving: Serves 6-8 people
Long Life Noodles are a traditional dish served to celebrate the Chinese New Year. Be sure not to cut the noodles while cooking or eating, as long noodles symbolizes a long life.
Ingredients
2 tablespoons olive oil
2 cloves garlic, minced
2 dozen shrimp, peeled & deveined
4 cups of cabbage, chopped
4 scallions, thinly sliced
1/2 cup fresh green peas (if using frozen, thaw them first)
1/2 cup green bell pepper, thinly sliced
1/2 bean sprouts, rinsed & drained
2 teaspoons curry powder
1/2 teaspoon salt
1 tablespoon fresh ginger, minced
1/2 cup low-sodium chicken or vegetable stock
2 tablespoons low-sodium soy sauce
2 teaspoons sugar
1 teaspoon chili paste
1 pound linguine noodles, cooked and drained
Directions
Cook the linguini noodles according to package directions, drain and set aside.
Heat the oil and garlic in a large saute pan over medium-high heat. Continue to cook until the shrimp turns pink, then remove the shrimp from the pan and set aside.
Add the cabbage, scallions, bell pepper, peas and sprouts to the pan along with the ginger and curry powder. Stir fry everything until the vegetables become tender. Add the shrimp back to the pan and cook together until the shrimp is heated through.
In a small bowl, whisk together the stock, soy sauce, sugar and chili paste. Pour the mixture over the cooking vegetables & shrimp. Mix well. Add the noodles to the pan and mix everything together, making sure to coat the noodles with the sauce.