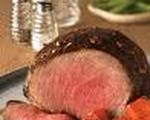 Prep: 15 min
Cook Time: 15 min
Total: 30 min
Serving: 4
London Broil with Onions tastes great with new potatoes sauteed in butter and parsley.
Ingredients
1 pound flank steak
2 medium onions, thinly sliced
1/4 teaspoon salt
1 tablespoon butter
2 tablespoons vegetable oil
1 teaspoon lemon juice
2 cloves garlic, crushed
1/2 teaspoon salt
1/4 teaspoon pepper
Directions
Place steak on broiler rack. Score both sides of steak in diamond pattern, 1/8 inch deep.
Saute onions with salt in butter in skillet until tender. Set aside; keep warm. Combine remaining ingredients in bowl.
Brush steak with half the sauce. Broil 2 to 3 inches from heat source for 5 minutes. Turn steak and brush with remaining sauce. Broil for 5 minutes longer. Slice across the grain into thin slices. Serve with onions.