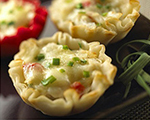 Prep: 20 min
Cook Time: 13 min
Total: 33 min
Serving: 12 individual servings
These delicious little puffs of pastry perfection are filled with tender lobster and creamy brie cheese. Serve as an appetizer or as a starter dish with a glass of chilled white wine.
Ingredients
2 10-ounce packages frozen pastry shells (12 total)
2 tablespoons butter
1 small red onion, finely chopped
2 cloves garlic, minced
2 tablespoons all-purpose flour
1/8 teaspoon freshly ground pepper
1-1/4 cups half-and-half or light cream
1/2 cup dry white wine or champagne
6 ounces Brie cheese, rind removed, cut up into pieces
8 ounces fresh lobster, cut into chunks (about 1-1/2 cups)
Fresh chives to Garnish
Directions
Prepare the pastry according to package directions and set aside.
In the meantime, place the butter in a large saucepan over medium-high heat.
Once melted, add the garlic and onion and sauté for 6 minutes until the onions are soft.
Sprinkle in the flour and pepper and then stir in the cream and wine. Cover and cook, stirring frequently, for about 5 minutes until the mixture is thick and bubbling, then add the brie cheese and stir until melted.
Stir in the lobster and cook for 1 additional minute until mixture is heated through.
Carefully spoon the lobster mixture into the prepared pastry and then garnish with fresh chives.