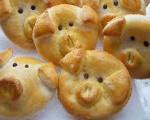 Prep: 15 min
Cook Time: 20 min
Total: 35 min
Serving: 5 servings
Piggy face biscuits. A fun and simple breakfast complete when served with a side of bacon and eggs.
Ingredients
1 (10 ounce) package refrigerator biscuits
vegetable oil spray
raisins
Directions
Place 5 of the biscuits on a greased cookie sheet.
Divide the other 5 biscuits in half. Take one half and roll into a ball. Flatten and place on the whole biscuit for the snout.
Divide the other halfs in half again. Roll into balls and press with your thumb. Set on the side of the face for ears.
Place raisins on for eyes, additionally if ears and nostrils if wanted.
Bake according to the package directions, or until golden.