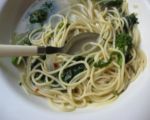 Prep: 10 min
Cook Time: 15 min
Total: 25 min
Serving: Serves 4 people
The combination of flavors in Linguini with Rapini & Chili -- the mild broccoli and the spicy chili -- is pasta perfection! Rapini is a type of Italian broccoli also know as broccoli rabe or sometimes, broccolleti. Serve hot with Parmesan cheese and pine nuts on top.
Ingredients
12 ounces linguini or spaghetti pasta
1 pound of rapini, stems cut and leaves ripped into small pieces
1 large red chili pepper, seeded and chopped
1 clove garlic, minced
2/3 cup olive oil
Fresh Parmesan cheese to top
1/4 cup of toasted pine nuts to top
Salt & pepper to taste
Directions
Bring a large pan of lightly salted water to boil. Add the pasta and the rapini and cook for about 10 minutes (until both are tender). Drain.
In a small saute pan over medium heat, warm the oil. Ad the chili and garlic and cook over low heat for about 5 minutes.
Toast the pine nuts in a small pan over low heat, just until they begin to brown. Take care not to burn.
In a large serving bowl, add the pasta and rapini. Pour the chili, garlic and oil mixture over the pasta and toss to coat. Season with salt and pepper to taste. Serve in individual bowls. Sprinkle with the pine nuts and freshly grated Parmesan cheese.