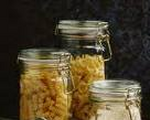 Prep: 30 min
Cook Time: 15 min
Total: 45 min
Serving: 4
Linguini Con Vongole Bianco is a classic Italian pasta dish. Butter and cheese is indicative of Northern Italy.
Ingredients
1 medium onion, chopped
1 clove garlic, minced
3 tablespoons butter
1 tablespoon flour
3, 6 1/2 ounce cans chopped clams
1/2 teaspoon salt
1/2 teaspoon dried basil
1/8 teaspoon pepper
8 ounces linguini
1/4 cup fresh parsley, snipped
Parmesan cheese, grated
Directions
Cook and stir onion and garlic in butter until tender. Remove from heat, stir in flour, add clams with liquid, salt, basil and pepper. Heat to boiling, reduce heat, cover, simmer 5 minutes. Cook linguini.
Add parsley to sauce. Serve sauce over linguini. Sprinkle generously with parmesan cheese and freshly ground black pepper.