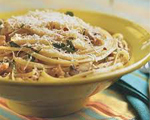 Prep: 10 min
Cook Time: 15 min
Total: 25 min
Serving: 4 Servings
Another delightful Italian staple that can be made in minutes, but tastes like you spent hours preparing. Pair with a bottle of Pinot Grigio and you have a gorgeous dinner for two.
Ingredients
3/4 pound linguine
5 tablespoons olive oil
4 garlic cloves, minced
1 (10 ounce) can minced clams, drained
1 (8-ounce) bottle clam juice
1/3 cup chopped fresh flat-leaf parsley
2 tablespoons fresh lemon juice
1/2 teaspoon crushed red pepper
1/2 teaspoon salt
Freshly ground pepper, to taste
Directions
Cook the linguine according to directions on package.
Drain and then drizzle with 2 tablespoons of the olive oil, lightly toss and cover to keep warm.
Heat a sauté pan on medium-high heat and add oil. Sauté garlic for 1 minute until garlic is golden and fragrant. Mix in the clams, clam juice, parsley, lemon juice, red pepper, salt and pepper. Cook for about 3 minutes, or until heated through.
Pour sauce into pot with linguine and toss to coat. Serve immediately.