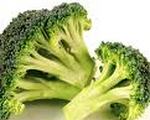 Prep: 15 min
Cook Time: 15 min
Total: 30 min
Serving: 4
Linguine With Pork and Garden Vegetables is a complete meal.
Ingredients
1, 9 ounce package refrigerated, uncooked linguine
3/4 pound boneless pork loin chops, cut into thin strips
6 Italian plum tomatoes, chopped
1 red bell pepper, cut into 1 inch pieces
1/4 cup fresh basil, chopped
1/4 cup Kalamata olives, pitted and halved
1 tablespoon olive oil
1 large onion, sliced
3 large garlic cloves, minced
2 cups fresh broccoli florets
salt and pepper to taste
Directions
Cook linguine to desired doneness as directed on package. Drain.
Meanwhile heat oil in a large skillet over medium high heat until hot. Sprinkle pork with salt and pepper. Add pork to skillet. Cook and stir for 3 minutes.
Add broccoli, tomatoes and bell pepper. Cook and stir 3 minutes or until vegetables are crisp tender and pork is no longer pink. Stir in basil and olives.
Add linguine to saucepan or place in a serving bowl. Add pork and vegetable mixture and toss gently to mix.