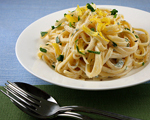 Prep: 10 min
Cook Time: 20 min
Total: 30 min
Serving: 4 Servings
Gorgonzola is one of Italy's most famous cheeses. Enjoy it's delightful and slightly tangy flavor in this rich and creamy sauce. A filling yet sophisticated entrée for your guests.
Ingredients
6 oz uncooked linguine
2 tablespoons olive oil
2 cups milk
2 tablespoons all-purpose flour
1/4 teaspoon table sea salt
1/8 teaspoon black pepper
1/8 teaspoon cayenne pepper
1 oz gorgonzola cheese, about 1/4 cup, crumbled
1/4 cup grated Parmesan cheese
3 medium dried figs, or 2 large, coarsely chopped
1/4 cup chives, minced
Directions
Cook the linguine according to directions on package. Drain and drizzle with the olive oil and toss; keep pasta warm.
In a large sauté pan, combine the milk and flour with a wire whisk, and mix until the flour is totally dissolved. Add the sea salt, pepper and cayenne and continue whisking mixture over medium heat.
After approximately 5 minutes, the sauce will thicken and will start to bubble. Mix in the Gorgonzola and Parmesan Cheese, stirring constantly, until the cheese melts. Remove from heat, add the figs and the chives and stir well.
Pour the sauce over the linguine and toss to coat. Serve immediately.