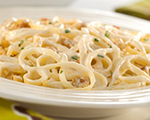 Prep: 10 min
Cook Time: 13 min
Total: 23 min
Serving: 2 servings
Make this simple yet delicious linguine recipe when you are looking for a hearty pasta meal in a pinch.
Ingredients
8 ounces linguine
Salt
1/2 cup half-and-half
1/4 cup vodka
2 teaspoons freshly grated lemon zest
Pinch of freshly grated nutmeg
Freshly ground pepper to taste
1 tablespoon lemon juice
1/2 cup freshly grated Parmesan cheese
1 tablespoon chopped fresh parsley
Directions
Cook the linguine al dente according to package directions, drain (reserving 2 tablespoons of liquid) and set aside.
In the meantime, place the half-and-half, vodka, lemon zest and nutmeg in a large sauté pan and warm over the lowest heat setting. Sprinkle with salt and pepper and stir to combine.
Place the drained pasta into the sauté pan along with the lemon juice, the reserved pasta liquid and a sprinkle of salt and pepper, and toss to combine.
Evenly divide the linguine between 2 plates, sprinkle with the cheese and parsley, and serve immediately.