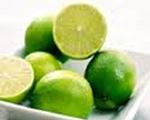 Prep: 30 min
Cook Time: 20 min
Total: 50 min
Serving: 12
Oatmeal is a crunchy addition to the tender crust in these individual Lime Tarts.
Ingredients
Crust: 3/4 cups rolled oats
1/3 cup brown sugar
1/4 cup butter, melted
Filling: 3 eggs, separated
1/4 cup lime juice
1/2 teaspoon lime rind, grated
2/3 cups sugar
1 teaspoon vanilla
1/4 teaspoon salt
few drops green food coloring
1 cup heavy cream, whipped
Directions
Crust: Combine oats, sugar and butter together. Toast in oven at 350 degree F for 10 minutes. Cool, toss with fork.
Filling: Cook over low heat the egg yolk, sugar and salt, stirring constantly until mixture reaches boiling. Remove from heat. Cool. Stir in lime juice and rind, vanilla and food coloring. Fold the whipped cream and beaten egg whites into the filling.
Place paper baking cups in muffin tins; spoon in 1 tablespoon crumb mixture. Spoon filling over crumbs. Top with remaining crumbs. Freeze until firm.