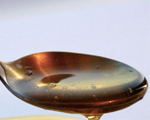 Prep: 5 hr 15 min
Cook Time: 5 min
Total: 5 hr 20 min
Serving: Makes enough syrup for 6 beverages
Use this syrup in cocktails wherever 'simple syrup' is required. You can also make your own apple and lime pop by mixing this with chilled club soda.
Ingredients
1 cup granulated sugar
1 cup water
2/3 cup freshly squeezed lime juice (from about 7 to 8 medium limes)
1 medium Granny Smith apple, cut into 1/8-thick slices
Directions
Place the sugar and water in a large saucepan over medium-high heat and bring to a simmer.
Stir the mixture until the sugar dissolves, about 6 minutes, and then remove from the heat and pour in the lime juice.
Stir to combine and then transfer the lime syrup to a 1-quart container and allow to completely cool.
Place the apple slices into the lime syrup and stir to combine. Cover the mixture and refrigerate for at least 4 hours so flavors can blend.
Strain the mixture to remove the apple slices.