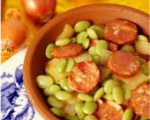 Prep: 15 min
Cook Time: 30 min
Total: 45 min
Serving: 4-6 servings
Lima bean and sausage vegetable dish.
Ingredients
4 cups shelled fresh lima beans
2 cups sliced smoked sausage
3/4 cup onion (finely chopped)
2 tablespoons bacon drippings
1 teaspoon salt
1/2 teaspoon black pepper
Directions
Place the beans in a 3 quart pot and cover with water. Bring to a boil and cook until tender.
While the beans are cooking, heat the bacon dripping, onion and sausage in a skillet until lightly browned.
When the beans are tender add in the sausage mixture and salt and pepper. Cook over medium heat for 10 minutes.