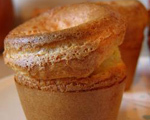 Prep: 10 min
Cook Time: 40 min
Total: 50 min
Serving: Makes 6 popovers
Popovers are light and hollow rolls made from an egg batter. Serve in place of traditional bread rolls as an elegant and attractive addition to your dinner table.
Ingredients
3/4 cup all-purpose flour
1/4 cup whole wheat flour
1 cup milk
1/4 teaspoon salt
2 eggs
Directions
Preheat your oven to 450 degrees and grease a 6-cup popover pan with cooking spray.
Place all of the ingredients into a bowl and beat until just smooth, taking care not to overbeat.
Spoon the batter into the prepared pan, filling each cup 1/2 full, and then place in the oven for 20 minutes. Reduce the oven temperature to 350 degrees and cook the popovers for an additional 20 minutes.
Immediately remove the popovers from the pan and serve hot with butter.